AgriBus-G+
Ultra-high-precision smart GNSS/GPS devices compatible with auto-steering
It provides ultra-high-precision GPS guidance by Bluetooth connecting to a smartphone tablet that is installed on a tractor and has a AgriBus-NAVI installed on the GPS tablet.In addition to outputting pulsed vehicle speeds, this system can be used for auto-steering (Note: It is currently under development and is scheduled to be sold in the fall of this year). It is also planned to expand its functions to support ISOBUS /AG-PORT, which can be used inexpensively and with multiple purposes.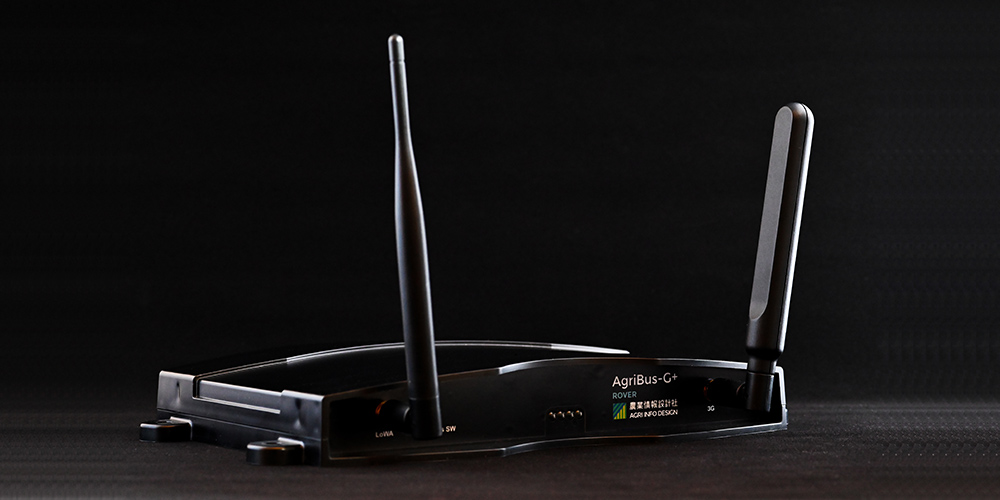 Ultra-high-precision position information
It has an internet-connection function and can be connected to the GNSS compensation information service by itself to use several centimeters of location information.
(Note: Customer needs to provide services to correct GNSS.)
※Provision of GNSS compensation data
In addition to the correction data distribution service provided by municipalities and agricultural cooperatives and the real-time correction data distribution service provided by Japan Global Positioning System (GPS) Data Services Co., Ltd., the RTK base station is operated by the RTK base station itself by using the AgriBus-GMini.In some cases, RTK base stations installed at companies and universities are open to the public and can be used free of charge.
Accurate azimuth output
The correct orientation is detected by mounting two GNSS modules.
The display will not be disturbed even when moving forward or backward or at low speed.
Vehicle speed interlocking pulse output
Vehicle speed pulse output corresponding to domestic tractors and import tractors.
The watch can be connected to a work machine with a vehicle speed interlocking function to perform precise work.
No complicated mounting of the sensor on the wheel or adjustment after mounting is necessary.
Optimal Bluetooth connections for tablets and smartphones
Support for radio access by Bluetooth.
You can charge the doublet/smartphone.
Compliance with ISOBUS/AG-PORT (planned)
It is possible to connect a work machine that complies with domestic and overseas standards (Note: currently under development, certification is scheduled to be obtained).
ISOBUS: A communication standard developed by the AEF.
AG-PORT: A communication standard established by the Japan Agricultural Machinery Association.
Scalability
Rewriting the built-in software supports version upgrades and function extensions.
You can use it for a long time.
GPS/GNSS
Types: 1-frequency RTK/D-GNSS
Accuracy :0.025 m(RTK)~2.5 m(D-GNSS)
I/F
Radio: Bluetooth2. 0 (SPP)/3G/LoRA
Wired: CAN × 2, USB host × 1, RS232/UART × 1
Vehicle speed pulse output
Domestic(JAPAN) tractor system (open collector output)
Overseas tractor system (Voltage output, ISO11786 specifications)
ISOBUS /AG-PORT (under development)
TECU outputs such as vehicle speed, engine/PTO rpm, etc.
Outputting GNSS data using the NMEA2000 method
I/O
Digital input/output (2 ports each)
Analog input/output (2 ports each)
Azimuth and orientation detection
9-axis IMU (gyro sensor, acceleration sensor, electronic compass)
Power supply
DC12~24[V]
We will inform you
of the future shipping schedule.

Registering e-mail address

[mwform_formkey key="8465″]
AgriBus products
Simple, low-cost tractor driving support application

You can check field data and work history with a web browser.

Automatic steering options that can be retrofitted