Nice to meet you! Welcome to the AgriBus series.
The AgriBus series is a GPS guidance system developed to easily reduce the burden and cost of farming.
Here's a guide on where to start with the AgriBus series and which products you should use to suit your goals and budget.

[Jump to step-by-step instructions]
STEP1
I want to run tractors and other farm equipment "straight and evenly spaced".
STEP2
I want to use a computer to manage my fields and organize my work history.
STEP3
I want to make farming work more convenient and efficient
STEP4
I want to use an external GPS to increase the accuracy of my farming operations.
STEP5
I want to achieve automatic steering.

Download AgriBus-NAVI
The "AgriBus-NAVI" is a system of agricultural machinery such as tractors, combine harvesters, and self-propelled sprayers. A GPS/GNSS for Android that can be mounted on agricultural vehicles to assist in straight-line operations in the field This is a guidance application. By driving while checking the screen display, you can perform farm work in a large field straight and evenly spaced. You can.
feature
Recognized worldwide, with over 500,000 downloads (as of the end of April 2020)
Using your smartphone or tablet, simply download and install from Google Play
It's basically free to use (with some paid features)! Feel free to try it out!
Compatible Models
Android 6.0 or higher for smartphones and tablets (iPhone and iPad are not supported) (mm)
You can download it from Google Play (Android devices without Google Play are not supported)
Make sure it has GPS (some of the tablets in circulation do not have GPS)
reference information
Download  now!


Register on the AgriBus-Web
Once you've seen the GPS guidance in the AgriBus-NAVI app, the next step is to register with AgriBus-Web and manage your field and tractor work history on your computer's web browser screen.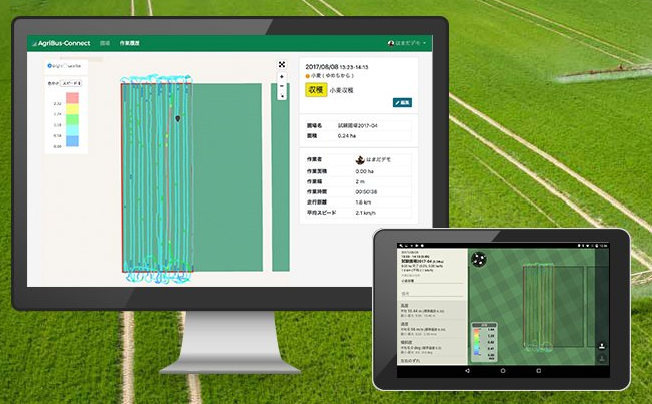 The "AgriBus-Web" allows you to record your work history with the AgriBus-NAVI app, create field areas using satellite photos and 3D views, and manage your crop recording and more.
Using AgriBus-Web is basically free, too! (Some features are paid for.)
※With the free plan, the work history is limited to the last two days.
※If you want to keep track of your work history indefinitely, you need to subscribe to the Standard Plan.
Reference information

Subscribe to the Standard Plan
To make the way you navigate in the AgriBus-NAVI app and manage your fields and work history in AgriBus-Web more authentic and more efficient, subscribe to the Standard Plan (AgriBus-NAVI's paid plan) and upgrade your features.
Standard Plan
Annual Plan 12,000 yen per year
Monthly Plan 1,200 yen/month
Back up your farming operations
Visual display of the trajectory (with direct visualization of speed and trajectory height difference)
Indefinitely store your work history in the cloud (the accumulation of records is useful for planning)
Save and recall guidance baselines (you can work on the same route as before)
Curved guidance (can cover curved fields)
Real-time display of vehicle positions (allows for a bird's-eye view of multiple tractor operations)
Using the RTK correction information transfer service "AgriBus-Caster" (making RTK setup very easy)
To sign up, please apply for a Google Play subscription "Standard Plan" from within the AgriBus-NAVI app.

Introducing AgriBus-GMiniR
Due to the limitations of the built-in GPS receiver, errors are inevitable due to its limited accuracy. If you check the work history on AgriBus-Web, the trajectory is deviated from the actual field position. or the sampling interval (cycle/interval to capture data) is slow and zigzagging. This can be a problem. In order to solve this problem, we need to install an external GPS system to receive highly accurate location information.

We offer the AgriBus-GMiniR, our GPS/GNSS receiver optimized for AgriBus-NAVI.
AgriBus-GMiniR
List price: 69,800 yen (tax included, free shipping)

※At present, AgriBus-GMiniR is only available for delivery within Japan.

Preparing centimeter-level location information
Now, so far, you've already achieved highly accurate positional guidance for your tractor and We are now in control of the tractor's working condition. The last step is "automatic steering". In order to achieve automatic steering, ultra-high precision centimeter-level position information is required. RTK positioning will make this possible.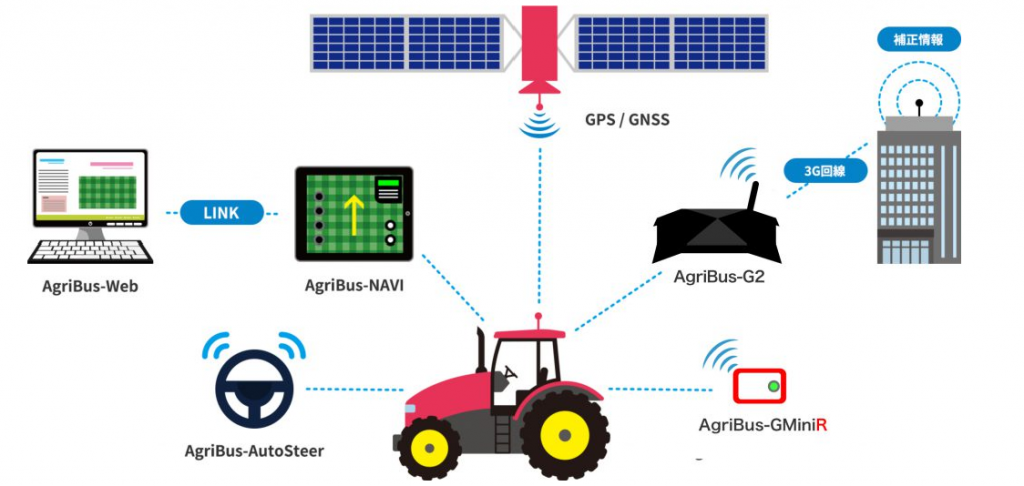 What is "RTK positioning" that enables ultra-high accuracy? Have you ever wondered why?
RKT positioning is a method of correcting the GPS/GNSS positional data by acquiring GPS/GNSS positional data at two stations, a base station (BASE) and a mobile station (ROVER), and reading the difference between the two, i.e., "transfer of correction information".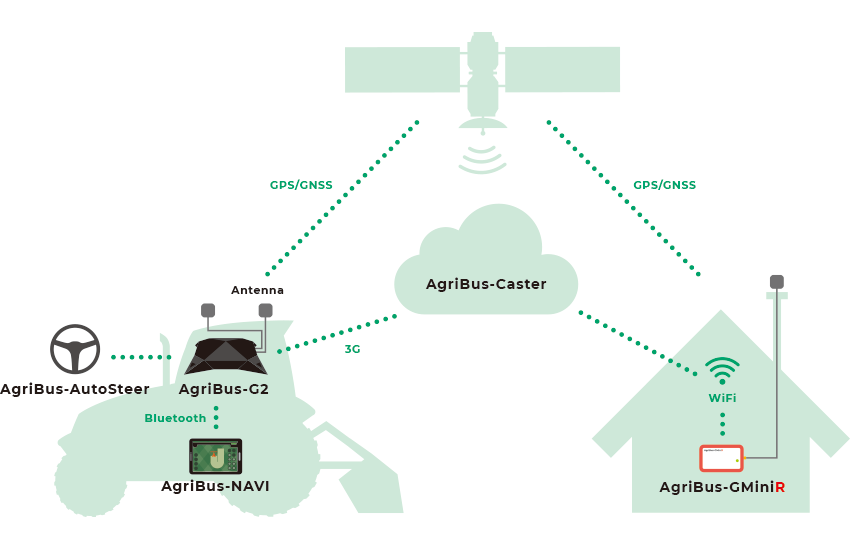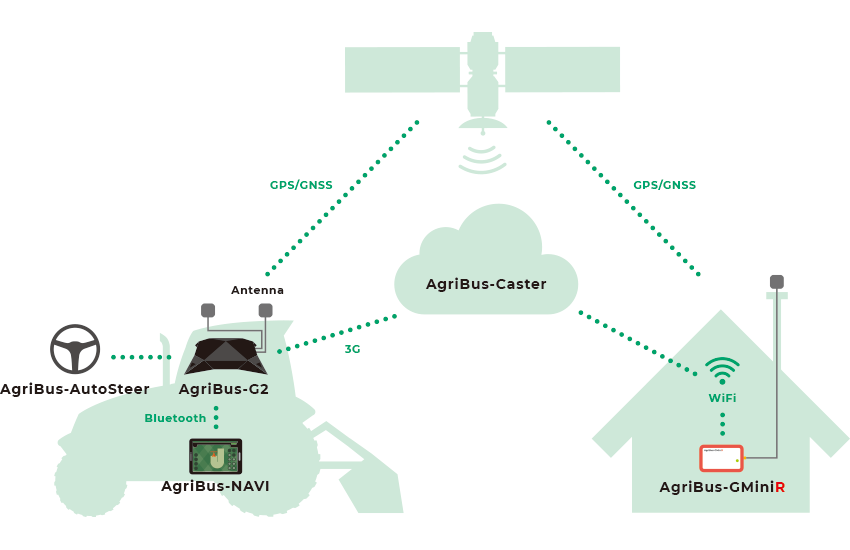 In fact, the "AgriBus-GMiniR" used in STEP4 can be used by changing the setting It can also be used as a RTK reference station (BASE), and can be used as an AgriBus Wi-Fi to the AgriBus-Caster, a service that transfers correction information to the NAVI application Connectivity is also implemented. This means that anyone with a Wi-Fi environment at home can easily set up a RTK reference station by themselves.
Introducing AgriBus-G2 and AgriBus-AutoSteer
By introducing the AgriBus-G2 (GPS/GNSS receiver for automatic steering) and the AgriBus-AutoSteer, automatic steering will become possible simply by retrofitting it to your existing tractor without the need to purchase a new, expensive tractor.
※At present, AgriBus-Autosteer and AgriBus-G2 are only available for
delivery within Japan.
What you need to realize automatic steering
①AgriBus-AutoSteer 
②AgriBus-G2 
③Steer attachment hardware (we can manufacture the hardware for you, but you will have to install it yourself)
④Prepare RTK correction information (e.g., install AgriBus-GMiniR at your home)
※At present, AgriBus-GMiniR, AgriBus-Autosteer and AgriBus-G2 are only available for delivery within Japan.
reference information
All of our staff sincerely hope that by introducing the AgriBus series, farmers will be able to focus on growing better crops and developing their farm management, rather than driving and operating machinery.