Today, we are pleased to announce the release of the new version 5.0.9 of the AgriBus-NAVI application to the Google Play Store.
This time, we are making a major system change to renew the setting environment. We would like to ask everyone who is using the application to please check it.
Release Notes (5.0.9)
Renewal of setting environment

Other bug fixes
Renewal of setting environment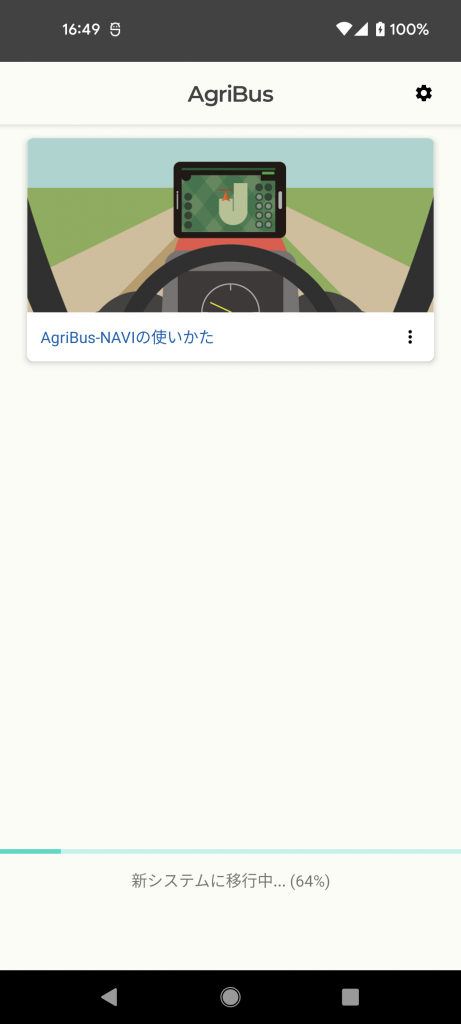 The realization method of " Select Setting Environment," a function to switch settings saved in the past by having multiple setting files, has been renewed due to differences in file operations for each model and unresolved problems of unknown causes.
The file storage method used since the initial release has been changed to a system configuration recommended by recent guidelines, which has largely eliminated the known problems, but the service specifications remain unchanged.
Note on Transition Processing
At the first startup after upgrading, the configuration files are migrated.
When you see "Migrating to the new system… ( %)" on the screen, please wait until it reaches 100%. (%)" is displayed on the screen, please wait until it reaches 100%.
The time required for the migration process varies depending on the processing power of your device and how you normally use it. We have tested in various environments and found that in some cases it took up to 10 minutes. We apologize for the inconvenience, but please be patient while the migration process is completed.
*If the migration process is stopped in the middle, it will resume (from 1%…) the next time it is started.
Cautions for devices not equipped with Google Play Store
The AgriBus-NAVI does not support operation on devices not equipped with the Google Play Store, but some users are using the application by sideloading it to devices not equipped with the Google Play Store, such as AmazonFire tablets.
Future versions are more likely than ever to fail to operate properly. Please take care to back up your data before updating.
Phased distribution of updates
In order to reduce server-side processing during the migration, this update will be distributed in phases over a period of about 10 days.
Please wait until it is delivered to your device.
These are the contents of this release.
If you have any questions about this release, please contact us here. We are looking forward to your comments and requests.
https://support.agri-info-design.com/
Click here to download the AgriBus-NAVI app
https://play.google.com/store/apps/details?id=com.agri_info_design.AgriBusNavi