Today we are pleased to announce the release of the new version 4.2.0 of the AgriBus-NAVI app to the Google Play Store.
The following features have been added and changed. We would like to ask all users of the application to check the following.
Improvement of the accuracy of the GNSS built into the smartphone
In the new version, the guidance accuracy when using the GNSS built into a smartphone or tablet has been dramatically improved by our original method developed this time.
In the conventional specification, when using GNSS sensor mounted on a smart phone or a doublet, GNSS accuracy becomes low in a cabin due to reasons such as radio waves being blocked by a roof, so there are issues such as choppy movement on the guidance screen and jumpy work tracks.
The new version solves the above issues by applying our original state discrimination method and position information interpolation and correction technology using the gyro sensor of smartphones and tablets to achieve smooth guidice movement and a smooth work trajectory.
When installing a smartphone or tablet, we recommend using a RAM mount or similar device, as fixing the device will improve accuracy even further.
This feature improves the guidance accuracy when using a smartphone/tablet alone without using a GNSS receiver with Bluetooth connection. Please take this opportunity to try this feature.
You can enable/disable it on the setting screen. (After updating to version 4.2.0, it is automatically enabled.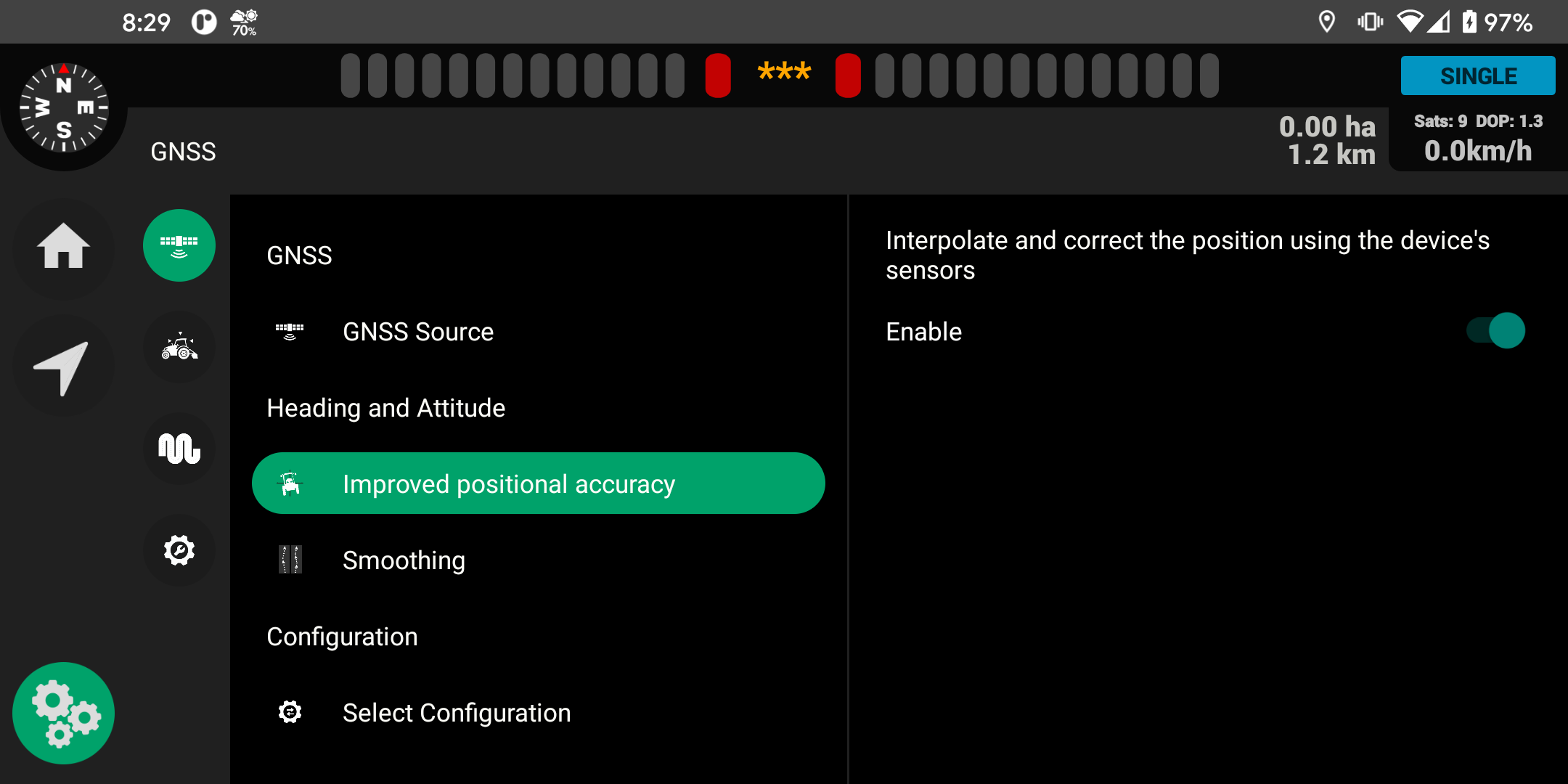 その他のリリース内容は、以下の通りです。
Release Notes (4.2.0)
Android12 support
GNSS accuracy improvement for smartphones and tablets
Modified the design of the work report screen and the settings screen.
Enhanced lead-in to AgriBus-Web
Fixed the design of the home screen and changed the card display conditions
Added a setting to display in Trimble Topcon coordinate system.
Added version checking function for AgriBus-G2 and GMiniR
Added the ability to create a Guidance Line (straight line) at any point.
Changed to not create or save the Guidance Line when its length is less than 1m.
Adjusted the setting input method when using multiple antennas
Simplified tutorial
Some bug fixes